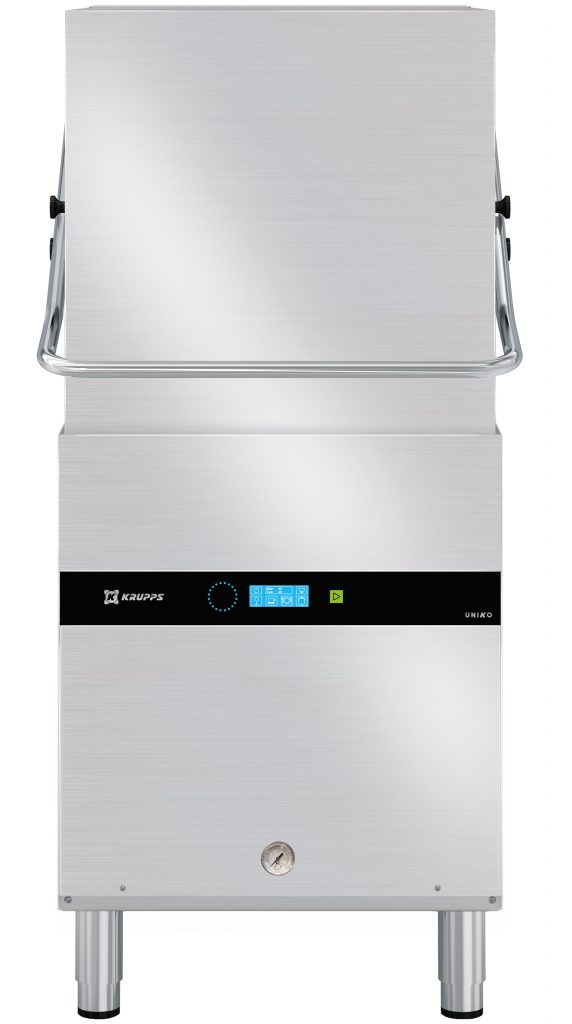 Functions and benefits without compromise, all with lower running costs and at a very reasonable price.
Stainless steel: Adjustable rotation speed rinse arms, integral tank filter, Detergent injector welded to the tank.
ETL Sanitation: Programmed to guarantee the perfect sanitation result at high rinse temperatures. This model is ETL and ETL Sanitation certified as it meets the requirements of the NSF/ANSI 3 rule. The washing cycles have been specifically designed to make the dishwasher compliant with the NSF hygienic safety standards, recognized by the American National Standards Institute (ANSI).
Multi power: Adapt the power level to your needs (field convertible).
LCD controls: Simple digital control panel with digital temperature display for intuitive and user-friendly operation.
60 years of experience with evolving technology has produced the HANDY H110E-A. Thesis offers a professional wash system, designed and created to provide excellent cleaning, hygiene and brightness. The HANDY hood-type dishwasher is an ideal solution for establishments that have to wash different types of dishes, glasses and hotel/gastronorm pans. Simple to use for heavy duty applications with low maintenance. We guarantee an impeccable wash quality, which can meet even the needs of the most sophisticated customers.
High-quality products built using durable stainless steel with electromechanical components. The H110E-A is designed for energy savings with lower water and detergent consumption.
Technical features
– Control panel with LCD display
– ETL Sanitation to guarantee a powerful wash and sanitization with a high rinse temperature
– EWC System, electronic control with 4 individual programmable cycles
– Energy saving start cycle system (washing cycle started only with push pressure on the closing handle)
– Drain pump optional (Ecology Care system for partial refilling of clean water every washing cycle)
– Vacuum breaker valve
– Integral stainless steel tank filter + New filtering group for suction and drain
– Racks supplied: 2 dish baskets, 1 glass basket, and 2 cutlery trays
– 1-year parts and labour warranty
– Adjustable 3L/hour detergent dispenser
– Adjustable 0.3L/hour rinse-aid dispenser
– 60 racks/hour or approximately 35 racks/hour in accordance to NSF standards
DISHWASHERS FEATURES
Dimensions - (mm) L - P - H
620x770x1435/1900 - 24"½W x 30"¼D x 74¾"H
n° baskets/hour - (+55°C)
Max 60
Height glass max
390mm
Ø height plate max
415mm
LT bread basket
40 (H=390mm)
Trays
GN1/1
Rinsing and washing arms
"Ø30 INOX UPPER / LOWER SEPARATED "
Tank heating element - Tank capacity
4,5kW - 37lt (9.8gal)
Boiler heating element - Boiler capacity
5,4kW - 7,3lt (1.9gal)
Washing pump
1,34kW / 1,5Hp
Total power input / Current
6,52kW / 30A
Standard input voltage
208/220V - 50/60Hz - 1HP
Recommended inlet water temperature
+55°C (125⁰F)
Water hardness
7÷10 °f
Water consumption per cycle (inlet suggested pressure 2 BAR)
2,0lt
Adjustable detergent and rinse-aid dispenser
ELECTRIC
imballo_mm_-_m3_-_kg
710x960x1520h - 1,04 - 120kg (265lbs)
ACCESSORI
Basket for glasses dim.500x500x100mm
1
Basket for 18 dishes dim.500x500x100mm
2
8 division cutlery insert
1
Integral tank filter
2
OPTION
UNIKO touch display with IKLOUD Wi-Fi control
-
Drain pump kit 32W
Basket for trays with 4 compartments dim.500x500x200mm
Inclined basket for wine glasses dim.500x500x170mm
Kit 4 Stainless steel feet 50-70mm
-
= Optional Installabile,

-

= Optional not installable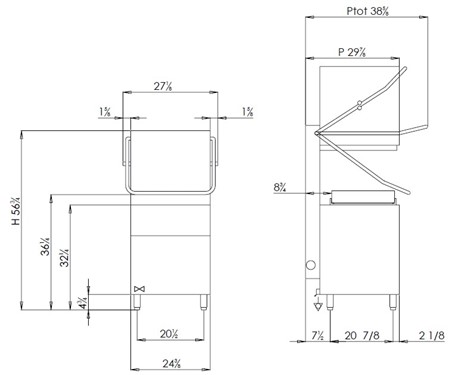 Vuoi ricevere maggiori informazioni su questo prodotto? Contattaci e riceverai una risposta al più presto